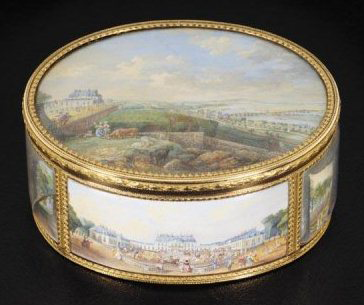 Origin: French
Maker: Pierre-Mathis de Beaulieu
Year Made: 1777
Approximate Value: $1,500,000
This amazing snuff box has six views of Château de Bellevue. It has the charge and discharge marks of Jean-Baptiste Fouache, Paris, 1777. The front rim is engraved: Ve George Beaulieu a Paris. The miniatures by Louis Nicolas van Blarenberghe are signed and dated: van Blarenberghe 1777.