Most American snuff boxes available today are from some of the prominent New England silversmiths like John Coney, Jacob Hurd, and Peter Van Dyck.  That is not to say that other artisans weren't active in different parts of the country.  Lewis Janvier of Charleston, South Carolina advertised his wares, which included snuff boxes, as early as 1735.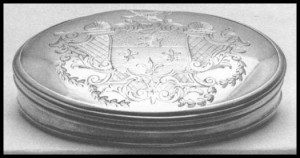 The earliest known American snuff box is from 1701.  It was made by Boston silversmith John Coney.  The second oldest American snuff box was also made by Coney and it is dated to 1720.  Both boxes are oval shaped and the lids are not hinged as would traditionally be expected.  Both boxes are also made of silver.
The earliest American snuff boxes are not at like the gold and enameled boxes popular in France and Russia.  American boxes are typically small and oval.  They are silver and the only engraving occurs on the cover.  The engraving is limited in its scope and detail.  In fact, anything with more than a minimal amount of ornamentation should likely be viewed as an import from England.  There will be no raised decorations, enamel work, or use of gold or gem stones.  Silver was the preference for most all of the 18th century in The United States.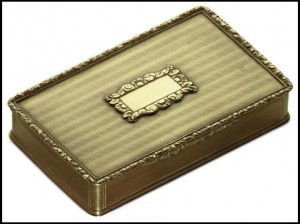 At the very beginning of the 19th century a new type of snuff box entered the American landscape.  It was the papier-mâché snuff box.  Almost all papier-mâché snuff boxes are circular.  They have a lid that is hand decorated.  There can also be inscriptions or other artwork on the inside or bottom of the piece.  The diameter of most pieces is between 2.5 and 4 inches.  The boxes are rarely more than an inch deep.  These were sold for occasions as late as 1840.  We have more information about American papier-mache snuff boxes here.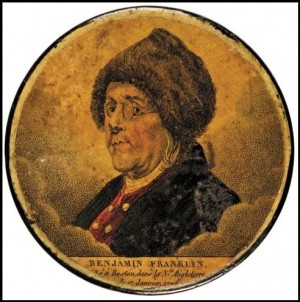 Snuffing in general became less popular towards the middle of the 19th century.  However, that did not stop people from marketing snuff boxes.  Some of the more intricate boxes with inlaid designs and gold are from the years 1830 to 1860.  The production of snuff boxes slowed to a halt after The Civil War.  Snuffing was officially out of favor and so ended the reign of the American snuff box.